The Distributed Software Foundation of the Veea Edge Platform™
Edge computing solutions demand a distributed processing model, with many physically separated processing elements that must be centrally managed and coordinated. VeeaWare answers that incredibly demanding challenge.
VeeaWare includes the following elements:
The Linux-based operational software and firmware that runs on all VeeaHubs, allowing them to combine their resources using our proprietary mesh technologies. This VeeaWare element makes all I/O and processing resources available across a given edge network.

Your applications and Veea Edge Services run in Secure Docker containers on top of the VeeaWare framework.
Security of the entire Veea Edge Platform is maintained by a Chain of Trust architecture that starts with specific hardware keys in the VeeaHubs.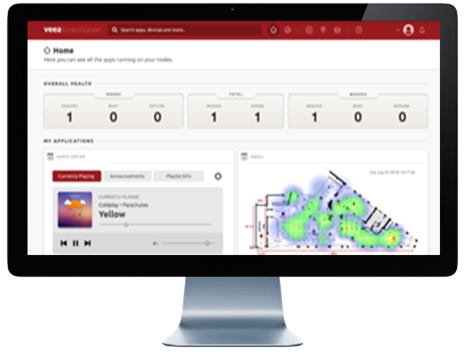 The cloud-based Edge Management software elements control and maintain all of your edge networks and applications, as well as the configuration and management of the underlying VeeaHubs. This provides you with the ability to manage your edge solutions applications across many edge networks, each having multiple VeeaHubs.

Handles all software deployment and maintenance
provides the ability to carefully manage where all of your edge applications are deployed, and their status
Perform authentications to make sure that only trusted software is on your edge platform.

The Veea Control Center element is your comprehensive, single-pane-of-glass user interface into your entire edge network universe.
Key Features & Benefits
Run your applications securely across a highly scalable edge network

Simultaneously run multiple applications in Secure Docker containers on one or many VeeaHubs

Leverage mesh technologies to scale your edge networks effortlessly

Control, manage and orchestrate your entire network and applications from a single, secure user Interface