In the context of an increasingly competitive real estate market, connected solutions make buildings more convenient, safe, clean, efficient, and profitable. The commercial real estate industry is primed to reap significant benefits from automation.
Cloud computing, while providing tremendous benefits, requires data to be transferred hundreds or thousands of miles with multiple network hops away. This results in delay, network congestion, multiple security risk points, and significant bandwidth costs. If the cloud or underlying networks have issues, your users and applications are affected. To address these issues, processing platforms must be closer to where the data is created, and where retail systems are controlled.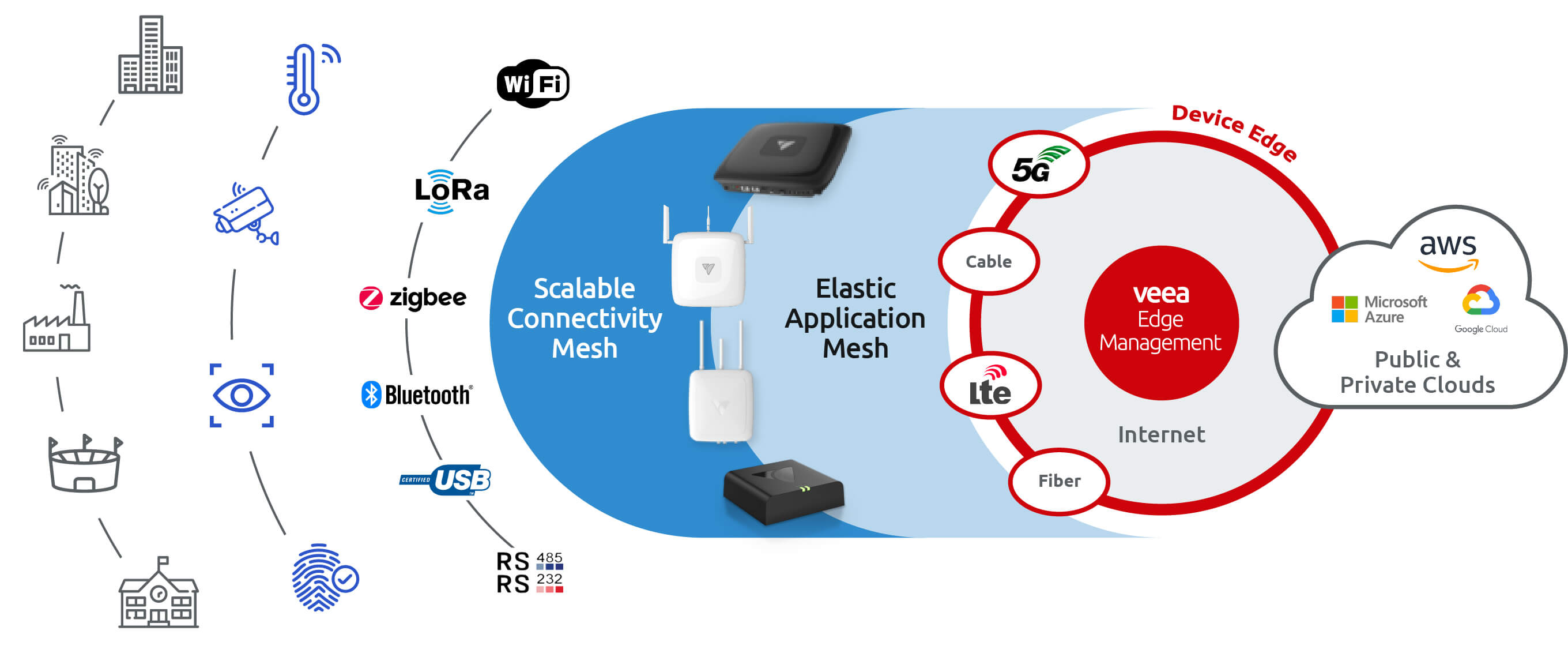 There are myriad business applications based on sensors and data collection and processing at the edge for Commercial Real Estate developers and property managers.
As a result of the Covid-19 pandemic, in 2020 and 2021 smart building technology providers launched an impressive range of products aimed at environmental safety, such as air filtration systems, people counting for social distancing, visitor management solutions for contact tracing, thermal imaging, and more.
While the rush to ensure buildings were operating safely redirected the strategies of many sellers and buyers of smart building solutions, the advent of a vaccine brought value beyond pandemic management to the spotlight, including space utilization sensors (for common spaces, meeting rooms, and individual offices) and virtual, or remote field service management products.
Edge Computing in Commercial Buildings
Edge computing provides data processing closer to the data source, with improved response times, reduced bandwidth load, lower energy consumption, increased data security, and support for new innovations happening in real-time, including automated control systems (HVAC, lighting, physical entrance security, water leak management, overall water and energy use management, and more).
Query-based tasks and automated actions can happen independently over mesh networks, like Veea's vMesh solution, while deeper analytics and visibility, and control across distributed locations can be performed in the cloud.
The growth of 5G, particularly private 5G networks, is giving Commercial Real Estate operators a boost in edge computing, with these networks improving connectivity and providing greater reliability for IoT solutions, while also improving signaling indoors so smartphones and other communications devices simply work better and more reliably.
Digital twins designed for operational management improvements will continue to be a high-growth area for years to come, as a very significant digital innovation made possible when multiple sensors, including cameras for computer vision, are used. Whether a commercial property is an office complex, hospital, educational facility, transportation hub, government building, large campus, big-box store, stadium, mall, or other, digital twins that replicate the environment using beacons and sensors reduces the cost of operations, while increasing the experience within the property, making it more valuable.
Benefits of Veea'ssolution for Commercial Real Estate include:
Faster Response Times for users and applications

Reduced Network Bandwidth and Storage

Autonomous Local Operation

Improved Data Privacy/Security by keeping it local
VeeaHub® Smart Computing Hubs™ combine the capabilities of wireless routers, IoT gateways, edge servers, local storage, and security elements in a router-sized package that fits wherever typical routers are installed.
VeeaHubs can be easily combined to form a wireless mesh of processing and connectivity resources wherever they are needed.
Connectivity Capabilities
LAN: Ethernet, Wi-Fi

WAN: Ethernet, 4G LTE*

IoT: LoRaWAN*, Bluetooth, Zigbee, USB, Serial

Storage: SDXC
VeeaHub Key Features and Benefits for Commercial Real Estate Developers and Property Managers
Plug-and-play deployment with zero-touch automated registration to the network for all devices under management

App-based local management via Bluetooth

Browser-based Veea Control Center with central cloud-based management of edge mesh networks

Robust wired and wireless connectivity with multiple radio protocols, ethernet, serial, and USB for maximum system flexibility.

Scalable connectivity mesh with easily configure coverage and capacity via multiple wireless protocols
Built-in Security
VeeaHubs were designed with a "chain of trust" starting from the hardware up through a containerized software architecture that prevents malware from getting a foothold on your edge network.
Natural Scalability and Flexibility
Server-Grade processing capabilities with powerful 64-bit multi-core processing support for Linux multitasking, allowing multiple co-resident applications to run simultaneously at the network edge.
Innovatus Capital Partners & Wynd: Partnering with Veea on Air Quality Management Solutions for the Commercial Real Estate Industry
Following the global pandemic, the value of clean air has grown and is now essential to organizations leasing commercial office space, especially as the economy picks up and tenants prepare to bring their workers back together. Innovatus Capital Partners, LLC approached Veea to quickly build and deploy an Air Quality Management (AQM) solution that would increase the appeal of their Highland Ridge offices in Nashville, TN for prospective tenants.
Wynd Technologies, Inc. supports the solution with its advanced clean air measurement technologies and devices. The Veea Edge Platform™ provides the local edge mesh network, which collects the data from the Wynd Halo devices, and performs the local processing for interpreting, managing, reporting, and presenting the information collected. The Veea Edge Platform also provides a wireless 4G WAN uplink to the cloud for remote reporting, alerts, notifications, and archiving.
"We are focused on supporting operational and environmental wellness in the facilities we manage. Secure, integrated IoT connectivity and edge computing in combination with Air Quality Monitoring (AQM) technology are a winning combination for smart building solutions for our properties.
"Bradley Seiden, Managing Director at Innovatus