The VeeaEdge Platform™ provides student and staff Wi-Fi, 4G and 5G for low-income communities, smart boards, and screens, and the requisite at home communications necessary for today's flexible classrooms and school at home.
The opportunity for edge, IoT, and cloud applications to transform education by dramatically changing the way schools, colleges, and universities serve their students and support their teachers is limitless. With data collected and analyzed, and exciting new ways for people to engage, administrators can improve the experience for all, including for the families who have become increasingly involved with the move to distance learning on the heels of the global Covid-19 pandemic.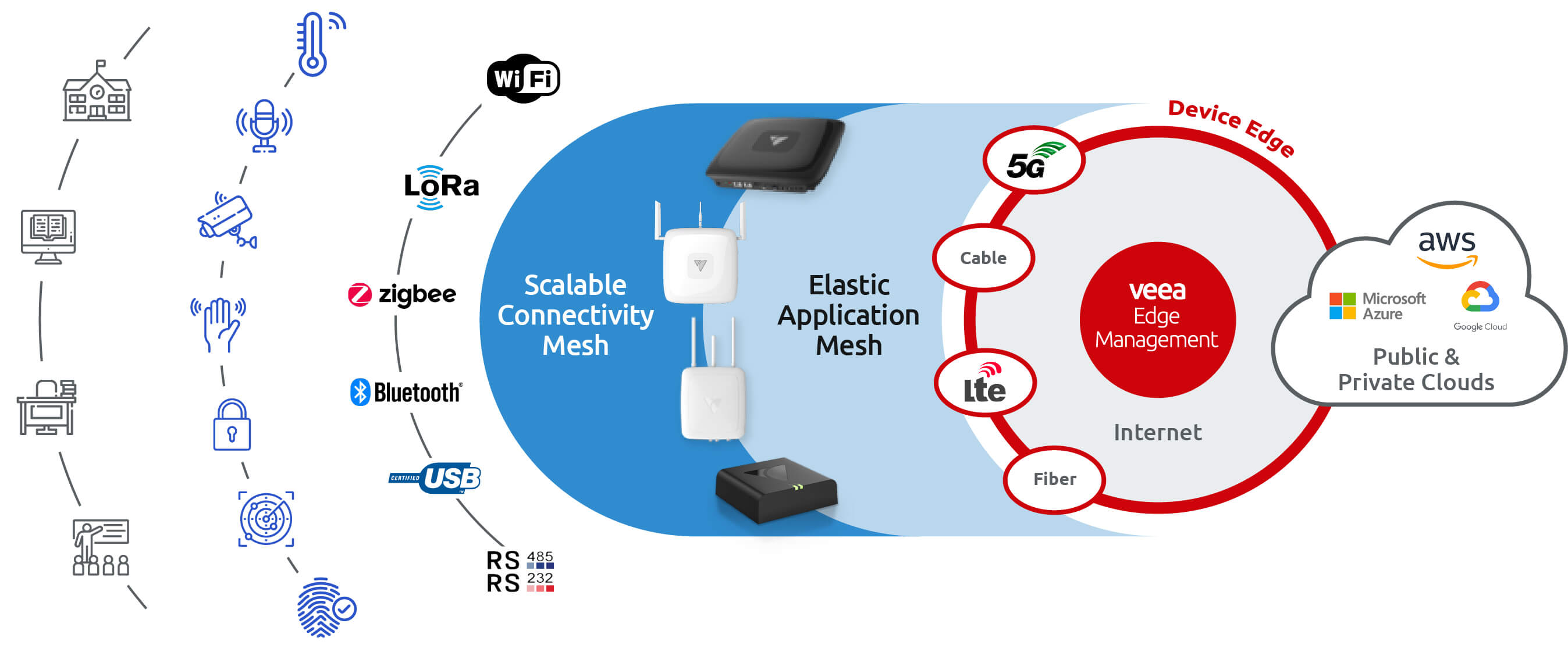 The use of embedded sensors, actuators, local mesh networking, micro-cloud, gateways, and the use of other cloud applications makes it possible to collect, analyze and understand patterns, and continually improve operations and manage costs.
Edge solutions including IoT enable institutions to:
Ensure a safer environment for students and teachers with digital surveillance cameras, smart physical security, notifications and alerts in case of emergency, and even connected school buses.

Build on the progress of remote learning, while also supporting a more creative, interactive, and immersive in-school experience, including enriching Science Technology Engineering, and Math (STEM) programs

Make it easier and more convenient for teachers to plan and deliver their lessons, test students and create more personalized learning programs, while providing them with the communications tools of the future, including virtual reality, augmented reality, and gaming innovations

Dramatically simplify operations for school administrators, monitoring physical and digital infrastructure, saving money through reduction of energy consumption, and create a safer environment, from social distancing, temperature sensing, and air quality management.
Veea's "Connect+Compute+Secure™" edge platform and solutions bring edge devices together in a unified fashion, with automation in device registration and through the entire lifestyle with monitoring, maintenance, and overall management capabilities all available on a single pane of glass.
Security and Safety: AI cameras monitoring for common spaces

Mass Notification Emergency Communication (MNEC)

AI cameras for remote learning

Occupancy sensing

WiFioptimization

Guest WiFi

4G Cellular continuity on campus and at home through a range of VeeaHubs®

BT or Z-Wave door locks

LoRaWANsupported panic button

Media optimization through local cashing

Support of cloud-based Learning Management Systems (LMS)

AdEdge–Content management and digital signage, including lunch menus
Security In Every Solution, Built-In
Veea'splatform, products, and solutions are inherently secure. Our edge containment and security capabilities in every stack reduce the risks and simplify the setup of IoT networks from device onboarding, to security automation, including access management capabilities.
Veea helps organizations unlock the full potential benefits of edge and IoT initiatives by providing enhanced levels of network intelligence, automation and security, and ongoing collaboration with our ecosystem partners supporting breakthrough applications designed for educational institutions.